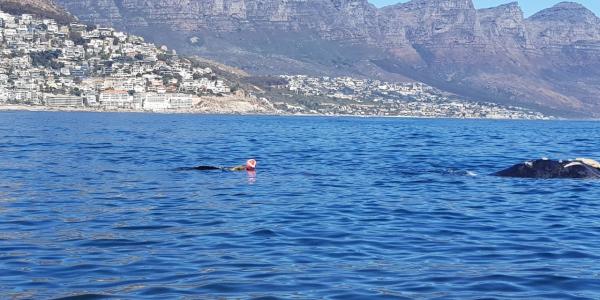 On a regular daily Marine Eco Tour excursion last Friday, March 29th, African Eagle boat skipper Francois Stapelberg came across a whale entangled in fishing rope, fishing gear and floatation buoys, 1.5 nautical miles off-shore of the Sea Point Pavilion.
This 10 meter juvenile Southern Right whale was entangled and exhausted for at least a couple weeks as she was spotted around the same area in february already but unfortunately had not been located again.
Following Francois' call, the SA Whale Disentanglement Network (SAWDN) volunteers were activated while conducting sea trials in the area and confirmed the sight. The NSRI Kommetjie sea rescue craft was launched accompanied by SAWDN volunteers and on arrival on the scene Francois was in attendance to point out the whale. It became evident why the whale had eluded previous search efforts for so long – due to a heavy clump of fishing gear wrapped around the whales tail in 6 entanglements forcing the tail to mostly lie under the water surface making it difficult to identify the whale. Besides, two adult whales nervously stayed around the calf during the whole operation, making it as intense as emotional.
Using adapted cutting equipment, the divers were able to remove 6 ropes around the tail and 3 around the fluke. This complicated and risky operation lasted for about 20minutes before the whale was freed.
The three whales swam away peacefully and despite this heavy traumatism, there is no reason to believe the whale was in danger anymore.
We would like to congratulate the NSRI teams ans well as our skipper Francois for their reactivity and their implivcation that endede up being a great success.
Full Article : https://www.nsri.org.za/2019/03/juvenile-southern-right-whale-freed-in-a-whale-disentanglement-operation-off-shore-of-sea-point/?fbclid=IwAR0vtfjHS1gS6DYBv8f_rS6AqNR0Rg7h8ZPebi1eWaCRb0vYSnCnj6c3WqM