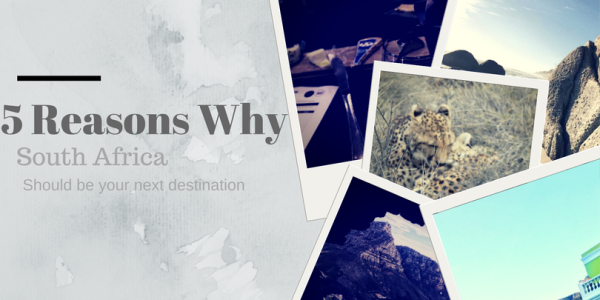 Take a look at our lovely beaches!
You're not about to see similar beaches anywhere else in the world. In Cape Town for instance, the beaches are covered by white sands and boulders, making most beaches picture-perfect. If you want a more unique scenery, take a roadtrip down the 300km Garden Route where you'll be surrounded by mountains on one side and the Indian Ocean on the other. Temperatures are mild all year round. The area actually has the second mildest climate in the world after Hawaii. So you can only imagine how it might seem like to be there. Continue a bit further to Durban (KwaZulu Natal) for a complete change of scenery. The city's tropical beaches in contrast with the modern buildings backdrop made the city earn the nickname: the African Miami.
Click here to browse through one of our lovely beach and peninsula tours
Enjoy Our Nature!

Talking about the Garden Route, did we fail to mention that South Africa is geographically speaking one of the most diverse countries in the entire world? Where else can you go from having your toes in the sandy ocean to standing on top of a mountain or in the middle of huge buildings and towers within less than an hour drive?
The diverse geography creates a perfect environment for different animal species. So if you're visiting anytime soon, make sure to book a safari. You'll see different animals such as lions, hyenas, impalas, black rhinoceros, and the list goes on and never ends! The most reputable game reserve is not far from Johannesburg: Kruger Park. But you can also find other alternatives throughout the country.
Click here to browse through our wonderful selections of Garden Route Tours
Or check out here for one of our diverse Safari Tours
Go on one of our exciting adventures!

If you're an adrenaline lover, wait no longer: South Africa is the country for you! It provides a range of exciting and stimulating activities. In addition to being one of the best surfing spots in the world – If you by any chance happen to be in the area around the end of July, a yearly international competition is held in Jeffreys Bay near Port Elizabeth –, the country offers activities such as quad biking, dunes surfing, paraglide, skydiving, and so on...
If you consider yourself rather indecisive, we suggest you do the highest abseil in the world in one of the seven wonders of the world: Table Mountain, CPT. Another option would be to go bungee jumping at Bloukrans bridge while at the Garden Route. With 216m of height, it is the highest commercial bungee in the world. You can also do it at the Orlando Towers in Soweto which have approximatively half the height.
Click here to one of our thrilling adventures
Or take a more calmly adventure to explore the full of Cape Town at
Dig into our broad and rich history!

Founded as a utopia, South Africa eventually managed to become a paradise on earth. However, this has not always been the case and only by looking at South Africa's multiethnical population, it is crystal clear that it has an extremely rich history. Little traces of the latter are scattered all over the country. So make sure to fit museums and other monuments into your trip. An absolute must would be anything related to Mandela like the Mandela House in Soweto or Robben Island or even the Mandela Youth and Heritage Centre at Qunu, in the Eastern Cape.
Click here to browse through some of our History tours in Johannesburg!
Wander through our atmospheric city vibes!

Rest assured, you might leave your comfort zone while in Africa, but not for long as the country is filled with big cosmopolitan cities where you can enjoy a good night out with good food, cheap alcohol, and most importantly great coffee. After all, all you need is a mix of good company and good food for a great time! It is thanks to its ethnic diversity and its « rainbow nation » that the country has inherited some of the best recipes and ingredients in the world! So don't miss out on a good South African meal on your next visit!

Check out here one of our Lovely Evening Tours