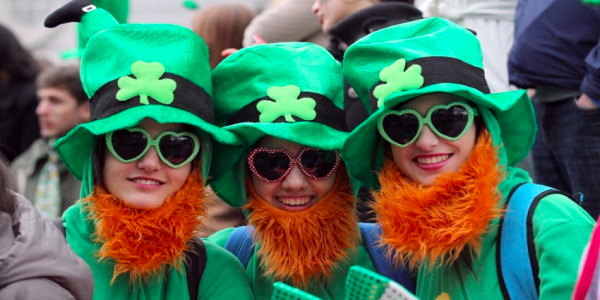 Celebrated by the Irish from all over the world, from Dublin to New York, St. Patrick's Day is one of the most important festivals in Ireland. Before talking about the events planned in Cape Town, let's trace the history of this festival and its origins.
Saint Patrick, known as the "Apostle of Ireland", once explained the concept of the Holy Trinity to the Irish in a sermon at the Rock of Cashel using a clover. Therefore, this has become the symbol of Ireland (the official emblem of the country being the Celtic harp).
According to legend Saint Patrick hunted and killed all the snakes in Ireland and this symbolizes the conversion of the Irish people. The snakes represent the beliefs of the polytheistic Celtic Irish which were associated with Satan. Every year, in memory of this, Irish citizens put a clover in their buttonholes.
St. Patrick's Day is a Christian event celebrated by the Catholic Church, the Orthodox Church, the Lutheran Church and the Church of Ireland.
However, beers, music and dance are the 3 words that sum up St. Patrick's Day in Ireland. Indeed, the Irish take this opportunity to party, sing, dance, drink, celebrate their Irish pride and loudly proclaim their Irish affiliation!
Every March 17th this popular festival is held in the streets of Ireland and in the Irish Pubs (places where you can drink in the company of other friendly Irish-folk). On the program: parades, concerts, traditional sessions in the streets and tastings of the best Irish food and drinks including their famous beers.
There is no need to be Irish to celebrate St. Patrick's Day ! Anyone is welcome to share the Irish spirit and join in the festivities. So, do not hesitate to join the party !
SAINT PATRICK'S DAY IN CAPE TOWN
It goes without saying that this year on St Paddy's Day, which falls on Saturday 17 March 2018, Cape Town will play host to an assortment of its own lively festivities.
A wide variety of pubs, bars, restaurant and clubs will be opening their doors and inviting dressed-up revelers in for a good bout of drinking and some themed entertainment.
Paint the town green and celebrate this Irish holiday at one of these Mother City haunts :
The Dubliner
251 Long Street, CBD, Cape Town
The Foreign Exchange
92 – 95 Station Road, Observatory, Cape Town
Three Cities - Inn on the Square
10 Greenmarket Square, Cape Town
The Taproom
95 Durham Avenue, Salt River, Cape Town
Quay Four Tavern - V&A Waterfront
V&A Waterfront, Cape Town
The Royal Oak
2 Harvan Centre, Marine Circle, Table View, Cape Town
Foresters Arms Pub and Restaurant
52 Newlands Avenue, Newlands, Cape Town