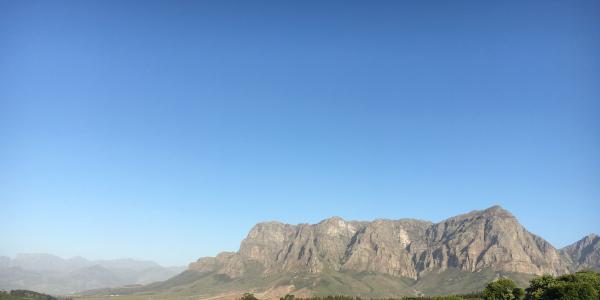 On a windy day in Cape Town I got up to get ready for my first electric bike tour ever. I had been told these were quite fun but for a strange reason I always thought it was something for lazy people. Though I thought I'd give it a try and I combined this first experience with a couple wine tastings in the wine region of Stellenbosch and Franschhoek as I love wine and mountains.
We arrived at Stellenbosch, South Africa's second-oldest town while the weather changed to a much sunnier and warmer atmosphere even though Cape Town is just about half an hour away. The winefarm was beautiful and I couldn't wait to ride between the vines… We started our tour with a short safety briefing about the bikes and off we went !
Uphill, downhill, rough terrain, this was EASY ! It felt great to be able to enjoy the view while pedaling almost effortlessly especially when it is quite hot outside. Furthermore I loved the fact that you could choose between different electrical gears so if you want to pedal more, go for it. If you are tired after a couple glasses of wine, just change the gear and let the bike do the work.
Our guide Ryan was great, adapting to everyone's pace and very friendly. We had lots of fun and I have learnt a great deal about the vines and winemaking. It is truly a great way to experience and discover vineyards. Cycling right in between the grapes and enjoying the almost magical beauty of the vines combined with the stunning mountains in the background is a treat and I even felt rewarded when we stopped for our first wine tasting at Jordan. The wines were delicious, the sommelier was great and the terrace in the shade was just what we needed. Back on our bikes, who would have known these few glasses of wine would give us energy? We were cycling to our second stop for lunch at Zevenwacht wine farm, the cellar tour and 2nd wine tasting. This one seemed like a beautiful older estate with remarkable white Cape Dutch architecture buildings.
This tour is a more intense and more beautiful way to enjoy this great region than just by going to a traditional wine tasting. In addition I even believe the wine tasted better after a ride in the hills and valleys between the grapes. Riding these bikes was a lot of fun even though I was skeptical before and they brought a lot of comfort to this tour.
Article by Georg S, 28/11/2019
To learn more about the tour, please visit : https://daytours.co.za/en/tours/electric-bike-winelands-tour